Creating an email template
Open a new email in Outlook
Write the email you wish to create a template from. Format it how you want, give the email a subject and if required include any standard attachments that you need.
Click the Save as email template button and Enter a name for the template.
The new email template is created and can now be used
Creating a new email from a template
To create a new email from an email template
Open a new email in Outlook
Click the Insert from template button and choose the template from the list
If your SuiteFiles site is connected to the Xero Practice Manager (WorkflowMax) you will be prompted to choose a client name and populate the email template with data about that client. If not required click Don't Prepopulate.
The new email is created and can be tailored before sending.
Editing an email template
Once an email template has been created via SuiteFiles Outlook you will see it listed in the template gallery in SuiteFiles web if you are a SuiteFiles administrator. You can access these by:
Clicking on the More tab and then Manage Templates
Selecting the Email category of templates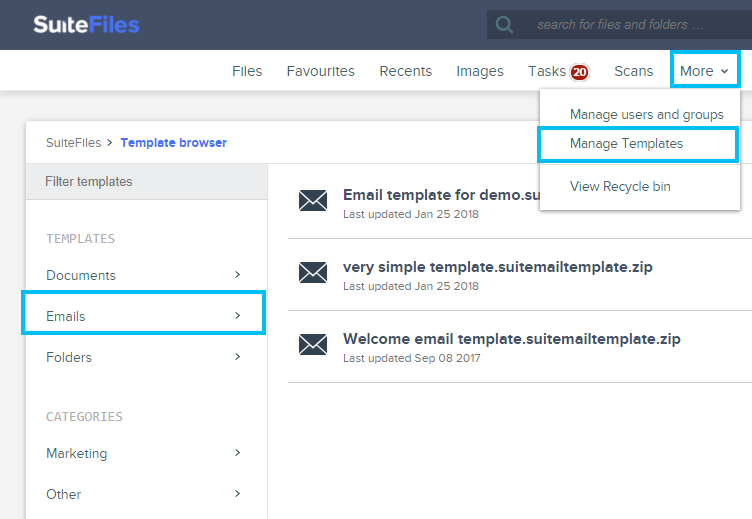 Unfortunately you can't edit these email templates from here. These templates are a special file that we have created purely for SuiteFiles and doesn't have an editor. You can rename and delete the email templates from here by clicking the ... to the right of the template name.

Process for Editing an Email Template
If you need to edit an email template then you should follow this process.
Create a new email in Outlook based on the template that you wish to edit
Make the appropriate changes to the email
Save the updated template by clicking the Save as email template button, you will need to give the template a new, unique name (you can't overwrite the previous version of the template)
If you need to delete the old template go to SuiteFiles web and click the Template icon, choose the Email category and delete the template
You can, if required, then rename the new email template to have the same name as the one just deleted.