How to save an email into SuiteFiles
When you have an email that you want to save into a folder you:
Navigate to the folder you want to save the email to.
Drag the email from Outlook into the selected folder in SuiteFiles Outlook. The file will upload directly into SuiteFiles.

How to save attachments from emails into SuiteFiles
You can save attachments from emails in your mailbox and also any attachments you have in an email you're drafting.
To do this:
Open the email the attachment is in
Drag the attachment into your desired folder in the SuiteFiles add-on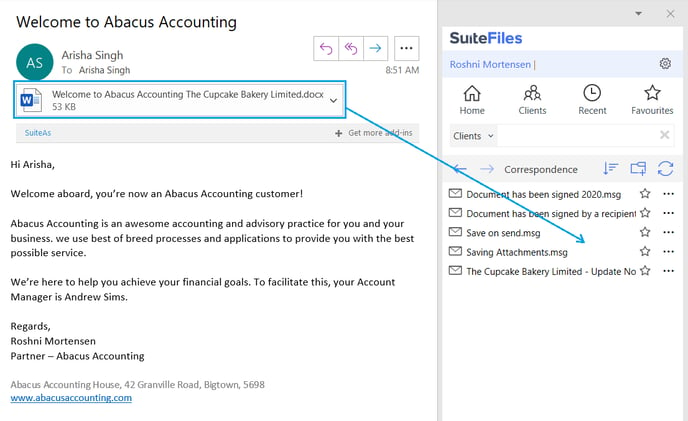 How to attach a File from SuiteFiles to an Email
When sending an email you often want to include attachments that are stored in SuiteFiles.
Open a new email
Click the Attach from SuiteFiles button - if it is not displaying on your screen as the picture below, see step 3.

The 'Attach from SuiteFiles' may be found by navigating to the 'Message' tab, clicking the ellipses (three dots), and clicking the 'Attach from SuiteFiles' button.

Navigate to the folder where the file is stored. Click on the file name. The file will upload and you can navigate to other folders and select other files to upload. Note the notification in the top right of the screen stating the file is being uploaded.
Click the x at the top right of the screen to close the form.
Continue to create the content of your email before sending.