When starting out with SuiteFiles and trying to open a document into the desktop apps you may see the following warning message:
Some files contain viruses that can be harmful to your computer. It is important to be certain that this file is from a trustworthy source. Do you want to open this file?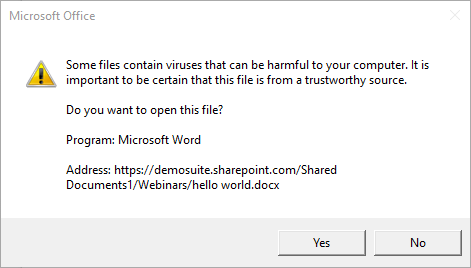 This is Microsoft double-checking that you trust the source where the file is coming from - in this case your SuiteFiles site. The following screenshots are for the Chrome browser and outline how you can update your settings to ensure the error is not seen.
Go into the browser settings

Scroll to the bottom of the screen and click Show advanced settings...
Keep scrolling until you find the System section and click Open proxy settings
On the Internet Properties form, click the Security tab, then the Trusted sites icon and the Sites button

Add your SuiteFiles site URL into the field provided and click Add
Click OK on the Internet Properties form and close the Settings tab in the browser
The next time you open a file you should no longer see the warning message.