This article outlines what a SuiteFiles administrator is and what additional features are available for them to use
What is a SuiteFiles Administrator?
A SuiteFiles Administrator gets access to extra features to help manage your account, payment and users. These users tend to understand SuiteFiles and are the best people to reach out to if you have a question.
What do they get access to?
Oversight over all files and folders regardless of set permissions.
Exclusive training for Administrators.
Subscription and payment management.
Control over user permissions.
Customisation of document signing interface.
Oversight for all Document Signing requests.
Ability to add and remove SuiteFiles users.
Ability to manage templates.
Ability to delete folders and files.
Ability to restore folders and files for all users from the recycle bin.
Who is my SuiteFiles Administrator?
Your SuiteFiles administrator is usually the individual/s who set up SuiteFiles for your business. In the rare case that you cannot find who this is for your site, please contact our support team.
Am I a SuiteFiles Administrator?
To check if you're a SuiteFiles Administrator, you can click on your name at the top right corner. If you see the option "Admin Settings" and "Manage Integrations", you are a SuiteFiles Administrator.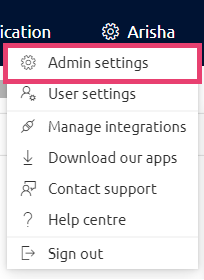 Under Admin Settings > Users you will also be able to see your SuiteFiles role. If you are listed as a Global Admin or Full Admin, you will have these permissions:

How can I become a SuiteFiles Administrator?
Only an existing administrator can change your permissions. Please contact them directly to change your individual permissions.