Here we answer some of the common questions we are asked about the SuiteFiles Web App:
How do I retrieve files that are missing?
There are a couple of things you can check if files are not appearing in an expected directory. The first option to try is to see if the file has been archived. To change your settings to allow you to see archived content, you can follow the instructions here. Once you've enabled that setting, return to the directory where the file should be and if it is archived, you'll be able to see it now. To unarchive the file, just click on the three dots to the right of the file name and select Unarchive.
Another place to check is the recycle bin. You can access the recycle bin by clicking on More and then View Recycle bin. A list of recently deleted files is shown on this page. You can click on the Restore button next to the file name to return the particular file back into its original place.
What is the upload limit on the web app?
The web app has an upload limit of around 100mb. If you'd like to upload a large amount of files, we recommend only uploading a few files at a time. You can also try and upload using the Outlook add-on as that app can handle larger files.
How do I convert a document to PDF?
To convert a Word document into a PDF, open the file within the browser in SuiteFiles. Once the file is open, click on the three dots next to the file name and select Convert to PDF. This will create a new PDF file in the same folder as the document and will open automatically in the PDF viewer within SuiteFiles.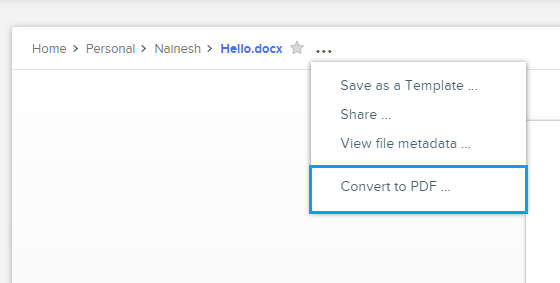 Can I use multi factor authentication (MFA) with SuiteFiles?
Since the SuiteFiles login uses Office 365 credentials, you can use multi factor authentication through Microsoft. An Office 365 admin can set up MFA by following the instructions here.
How do I reset my password?
The credentials to access SuiteFiles are administered by Microsoft Office 365 so we do not have the permissions to do this. To reset your Office 365 password, contact your IT or Office 365 admin and they will be able to help you out.