If you're unable to see a green icon next to your client folder, it could be because you haven't integrated XPM and SuiteFiles, have a groups structure, or some characters need to be replaced. Learn more below.
With our SuiteFiles and Xero Practice Manager (XPM) integration, a XPM icon will appear next to your Client folder when a matching client exists in XPM. You can see an example of this in the screenshot below: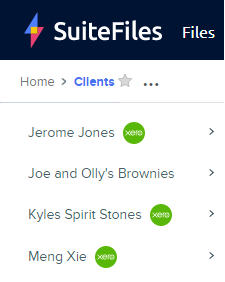 If you are unable to see XPM icons at your end, you will need to:
1. Checking your folder structure:
Our XPM icons will only appear next to folders directly under the Clients folder.
Unfortunately, you will not be able to see an icon if your folders are grouped under a family folder as shown below: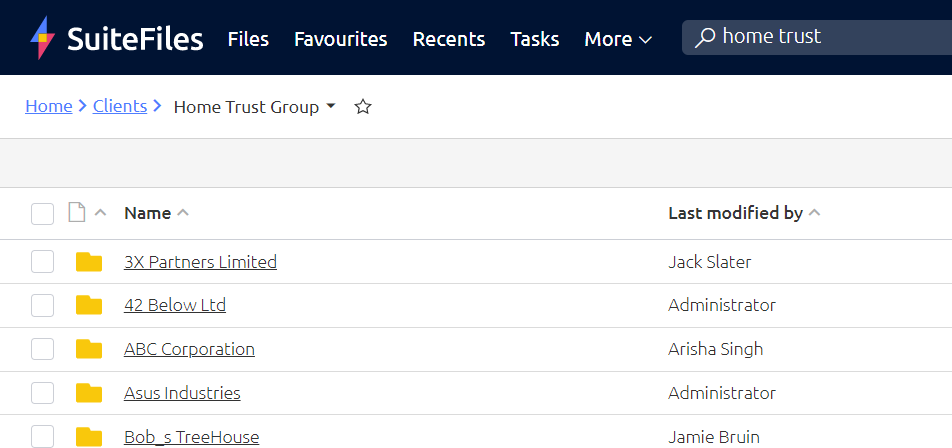 While we have plans to introduce XPM icons for grouped structures in the future, we would recommend retaining your groups without the icons or consider moving these folders directly under your client's folder. To learn more or ask for advice, you can contact our support team.
2. Reconnecting XPM and SuiteFiles:
Check that the SuiteFiles and XPM integration is connected. A SuiteFiles Administrator can confirm this by clicking their user name in the top right corner of SuiteFiles and selecting Manage Integrations. If the Practice Manager option shows a blue Connect button, this indicates that your integration is not yet connected.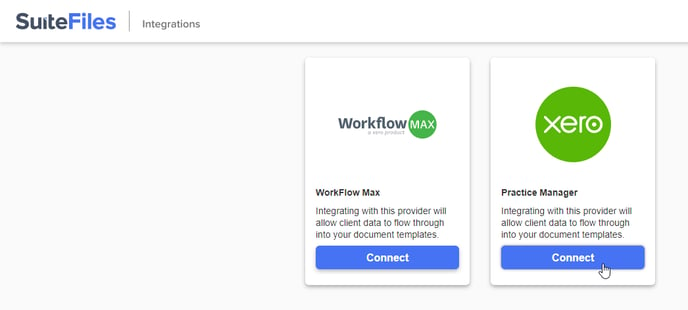 To set up the integration, see
Setting up the Xero Practice Manager Integration
.
3. Check you have the correct character replacements:
Ensure your client folder in SuiteFiles has the correct character replacements in place e.g. '&' is replaced with 'and', and any apostrophes or full stops are replaced with an underscore '_'. View the full list of character replacements here.
Once your client folder has been renamed to include these substitutions, refresh SuiteFiles in the browser and you should find the XPM icon now appears.
Known issue: While brackets are supported in XPM and SuiteFiles, XPM icons will not appear next to these client folders in SuiteFiles. This is a known issue that our developers will be resolving in a future update.
I still can't see my XPM icons:
If you have tried steps 1-3 and cannot see your XPM green icon next to your client folders, please contact our Support team with the name of your client folder and a screenshot.