SuiteFiles Drive is a companion app to the SuiteFiles Web App. It allows you to work with your files through the Windows File Explorer.
SuiteFiles Drive (or SuiteDrive) is a companion app to the SuiteFiles Web App. It allows you to work with your files through the Windows File Explorer. SuiteFiles appears as a network drive in File Explorer, allowing you to open, edit and save files, all from the cloud.
Before getting started
There are some important things you will need to know before installing SuiteDrive:
This guide will step you through:
Requirements
Here's what's required in order to run the latest version of SuiteFiles Drive:
Windows 8 or 10
A current Full Suite, Pro, Semi-Suite, or Super Suite subscription
The new update will require an administrator to be present to respond to prompts during the installation process.
SuiteFiles Drive 2.0 will not work on Terminal Servers or Remote Hosted Desktops as the SuiteFiles Drive app checks that it is only running once on a machine. You could have one user running SuiteFiles Drive on a server however all other users won't be able to run it, and would see the message 'Only one instance of SuiteFiles Drive can run at a time'.
We don't support Windows 7 however we have found that the app can work in this environment. You will need to have either Microsoft's .NET framework 4.6.2 or a later version installed. If you don't have this installed you are likely to see the message 'SuiteFilesExplorerPackage has stopped working'. Installing the .NET framework 4.6.2 and restarting your PC should resolve this issue.
Installing the SuiteFiles Drive:
Download the SuiteDrive installer using the download centre in SuiteFiles
You may get a prompt from Windows asking if you are sure you want to run this program. If you downloaded the installer from SuiteFiles then click More info > Run anyway
If you agree to our Terms of use, click Accept and install on the following screen

On the SuiteFiles Drive Setup screen, provided you accept the terms in the License Agreement, the Install button will become available for you to click
Click Finish
You will see a login screen where you will need to enter your SuiteFiles URL e.g. https://insertcompanyname.sharepoint.com then click Login. For Advanced Settings options, scroll to the next section
If you are already logged into the SuiteFiles Web App, you will be automatically logged in to the SuiteFiles Drive. Otherwise, a new browser window will open and you will be taken to the Microsoft Online login site
You may see a message asking if you want to trust www.thefullsuite.com. Click Trust it
Follow the steps on screen to enter your Office 365 email address and password and click Sign in
Once logged in to SuiteFiles Drive you will see a log in confirmation screen showing the SuiteFiles site and email address that you have logged in with; you can close the browser if you wish
The SuiteFiles Drive will open automatically in File Explorer
Advanced Settings
Advanced settings allow you to change the drive letter that SuiteDrive is mapped to, and the port it uses.
Drive Letter
By default the app will check which Drive letters are being used and map to one which isn't in use. The letters our Drive uses are S U I T and E. If all of these Drive letters are taken up then you may need to remap another network drive to a different letter.
Port Mapping
By default the port used by the SuiteFiles Drive will be 8080 however this port might already be in use by other applications on your computer. The common app we find already taking up this port is the MYOB connector add-on. Our app will detect this and change the port our app is mapped to. If you need to check the port it's going to use or you'd like to change which port it's using you can select one from the Port mapping drop-down. The ports you can select are 8080, 8085 and 8090.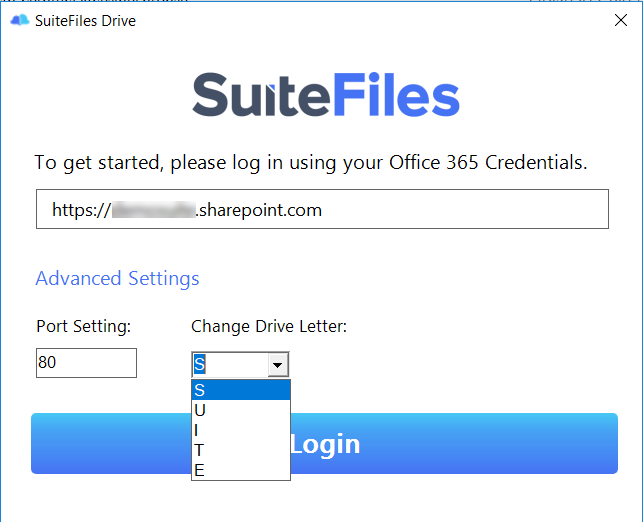 Accessing SuiteFiles Drive from File Explorer
Once you've installed and logged into the SuiteFiles Drive, open File Explorer, you'll find the SuiteFiles Drive under This PC: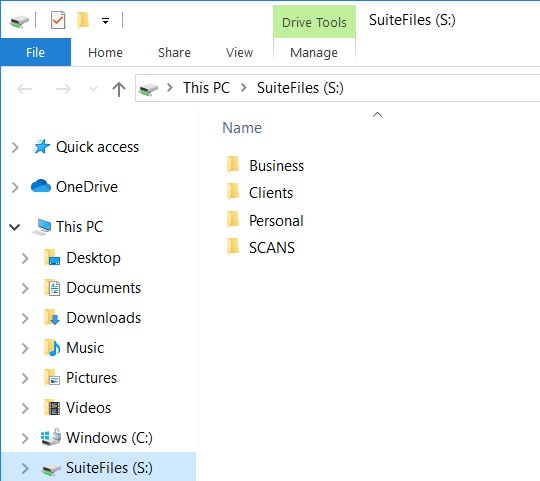 Questions or Feedback?
If you have any questions or feedback, please don't hesitate to contact our support team.