Read on for a list of recent updates to our SuiteFiles apps.
March 2020
Introducing the new SuiteFiles Outlook add-in for Windows!
A new SuiteFiles Outlook add-in is now available. It includes a new refreshed look, and an option to file your email conversations automatically. Read on for the full list of changes, as well as steps to make sure you're on the latest and greatest version.
Autosave email conversations
Look out for the new 'Autosave all emails in this conversation' check box when you next send an email.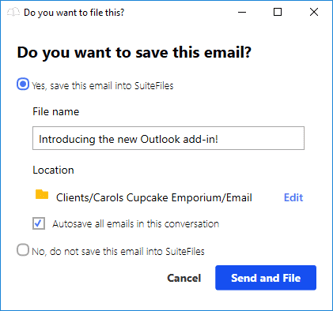 This little time-saver allows you save any email replies straight into SuiteFiles without you needing to do a thing - just set and forget. You won't be prompted to save on send for this conversation again, unless the recipients and subject line change. To read more about this update, check out our help centre article here: How do I autosave an email conversation in Outlook?
File options
File options are now accessed by clicking the three dots to the right of a folder or file, instead of right clicking. Options will change depending on whether you've selected a folder, email message or other file type.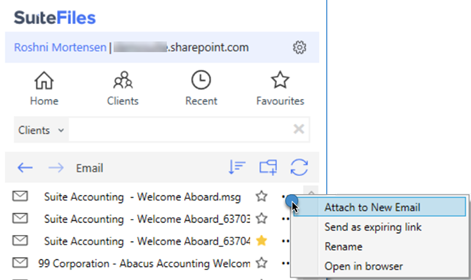 Switch views
By default all files will be displayed by Name in alphabetical order. You can change your view to Date, Type or Emails by clicking the Switch views icon shown below.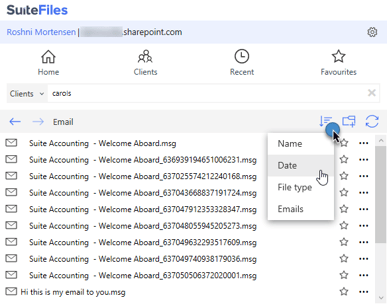 Drag and drop filing changes
We've made a small but significant change to the way you can drag and drop your emails and document attachments into the Outlook add-in. You can now hover over the folder you want the email or document to be saved into, without needing to open the folder.
How to update
To get your hands on the latest version on the new Outlook add-in for Windows, click the New update available! button within your current Outlook add-in.

Full steps for updating can be found here, or if you don't yet have the Outlook add-in for Windows yet, you can download it following the steps here.
Logging into the Outlook add-in
When prompted to log in, select the Basic Login option, unless you have two factor auth on your Office 365 account, in which case select the Advanced Login option.
September 2019
SuiteFiles Connect is live!
If you're on our new Super Suite plan, you'll now have access to SuiteFiles Connect in the SuiteFiles web app. It's our answer to a client portal, only Suite-er!
With SuiteFiles Connect you can share a connected folder with your client, giving them access to the files within it, create file upload requests and more.
To learn more read our blog here, or head over to the SuiteFiles Connect overview on our help centre here or view our recent webinar.
If you'd like to take advantage of SuiteFiles Connect, you can view pricing and upgrade to Super Suite following the steps here.
Document Signing
We've made a number of improvements under the hood to streamline the document signing process.
You'll also have the option to customise your signature following the steps here.
We now also send automatic email reminders to your signers on days 3, 4 and 6.
SuiteFiles web app
We've made a number of changes to how you view your files in the SuiteFiles web app:
New Tasks View
If you're on our new Super Suite plan, your Tasks view will now show My Tasks and Sent Tasks.
My Tasks represent the files and folders that have been shared with you by other members of your team. Think of it as your to-do list in SuiteFiles.
Sent tasks combine the files you have sent to your team, or to your clients via Connect file upload requests or files you have asked your client to Review, Edit or Approve.
We've also made the following changes:
Task comments use push notifications
The Task count is now the number of unread items (not the number of tasks due)
We've change to the way you see some tasks - those previously sent to you as tasks for your information (FYI tasks) are now shown as tasks to Review.
Recents
The Recents view now shows My Recents by default. Use the filters on the left to switch to All Recents, Emails or Client Folders that have been created or modified recently.
July 2019
Chrome extension
You can now drag and drop upload to the Documents tab in XPM
We've made some bug fixes to increase stability for Jobs and Quotes integration with XPM
Fixed a bug affecting the Export PDF to SuiteFiles process in Xero Reports
Management Portal
If you're using two factor auth or a single sign on solution, you can now log into the Management Portal (https://manage.thefullsuite.com) using the Advanced Login option to view and print invoices, remove users and change your subscription type.
June 2019
SuiteFiles Drive 2.0
We've updated the SuiteFiles Drive with a number of new features and fixes. The new app is available from the downloads centre in the Web App. For full download steps, please follow the instructions here: Installing SuiteFiles Drive 2.0
Please note: The new SuiteFiles Drive update will require an administrator to be present to respond to prompts during the installation process.
New features and fixes:
A new login experience supporting 2FA
The ability to change the drive letter and port
Automated port checking - if the chosen port is taken, SuiteFiles Drive will check for a free port to map to, enabling a smoother installation
We've also added automated drive letter checks so if S is already being used it'll try another letter
If you have delete permissions, the deletion of folders and files now works correctly
The correct date stamp is now displayed (no longer showing +12 hours)
Overriding PDF downloads will no longer show the cached version if loaded from Drive
Other changes:
We've removed the ability the Share or Create with template from the File Explorer. To Share or Create a new file, you'll need to use the Web App
We've removed the SuiteFiles icon in the navigation pane in the File Explorer. You can access the SuiteFiles Drive under This PC in File Explorer:
March 2019
Chrome extension
You'll find a new interface when accessing the Documents tab in Xero Practice Manager (XPM), with the links now mapping directly to your files in SuiteFiles, the ability to create folders (with templates) and upload a document.
You can now create new folders (with templates) when downloading reports or when using SuitePrint
The "Client already exists" message when creating a new client in XPM no longer appears when the field is empty
Bug fix for downloading reports from XPM and exporting Workpapers
You can switch back to the default XPM Documents interface by toggling the Documents Tab Replacement button following the steps here.
Did you know that installing our Chrome extension also improves your experience when using the Office Web Apps? We've made a few changes to make editing in the browser a better experience.
November 2018
Chrome extension
We've updated the user interface for a more streamlined experience
Improved layout on the Print to SuiteFiles and Save to SuiteFiles screens
Bug fix for archiving and renaming clients within groups
Outlook app
If you're using Outlook for Mac or accessing the Outlook Web App from your browser, we've released the following updates to our SuiteFiles Outlook app:
Changes to the navigation, making it simpler to get around and more intuitive to use
Updates to the user interface, improving the look and feel
The ability to access our Help Centre and contact the support team directly from the app
For steps to enable the app please see here. To learn more about the features and for step by step instructions, see Outlook for Mac or the Outlook Web App in the browser.
Android app
You can now share files directly from the SuiteFiles Android app
The Share File pop up now uses radio buttons, and other minor stylistic changes to the overall popup
We've also fixed a bug that caused the app to crash when certain files were opened from the home directory.
To install the Android app, search for SuiteFiles in the Google Play store, or see the steps outlined here.
SuiteFiles web app, Outlook add-in and SuiteDrive
You'll notice we've made some changes to the login screens throughout these SuiteFiles apps to ensure they're consistent no matter how you're accessing your files.
September 2018
SuiteFiles web app
We've fixed an issue affecting the ability to add or remove files or folders to Favourites.
Check box merge fields used in file templates will no longer return as false, and will now reflect the correct value from XPM.
Business values will now display on the Edit Field Values screen when a client has not be selected.
Outlook add-in (Windows)
New! We've added an option in Outlook's Home ribbon labelled "Toggle Sidebar" which will allow you to choose whether the SuiteFiles for Outlook add-in is displayed or not.
New! You can now right-click .xlsm files and select the Edit in Office option.
New! You can now save emails with asterisks (*) in the subject line. The add-in will now automatically strip out this restricted character to allow the email to save in SuiteFiles.
We've fixed an issue that saw black bars appear in the add-in when resizing it.
August 2018
SuiteFiles web app
There's a new Enter field values button available when creating a file from a template. This is an optional step in the File template creation process, which allows you to manually update the merge field data on your template, before you create it. More Information
You can now drag and drop a file from your Desktop into the Manage Templates section. There's also a button for uploading a template from your local computer.
We've fixed an issue where renaming a folder wasn't always updating the folder name in the web app.
Chrome extension
Mapping links have been added for Jobs and Quotes in XPM. You'll find these on the Information tab.
We've made some improvements to handling special characters.
Outlook add-in (Windows)
There's a new login option for users with multi-factor authentication (MFA) or a single sign-on solution (SSO).
We've made some changes to how our add-on loads into Outlook to help prevent Outlook from disabling it.
Favourites/Starred items will now automatically load in the Outlook add-on when added from the Web app.
July 2018
Chrome extension
A new function to display a link to the client folder from XPM.
Added the ability to use Groups in the links between XPM Clients and their folders in SuiteFiles as a beta feature.
Added a "Create Client in SuiteFiles" button into XPM. this allows clients within XPM to have a folder created and linked in SuiteFiles. When creating a client folder through this feature you will be warned of any similarly named clients to help avoid creating a duplicate.
Support for multi-factor authentication has been added. Now in the login screen, clicking on the advanced login link will take you to a page where you can go through the standard Microsoft login process and use multi-factor authentication.